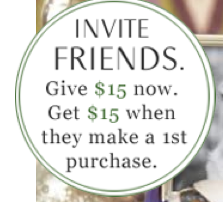 *WOW* ..Well, I am not really sure what is going on with
One King's Lane
$15 credit, but thanks to
Must Love Coupons
, I just found out that if you got the FREE
$15 referral credit last week to One King's Lane, prior to when they changed the rules that you had to use it on a $30 purchase, then RIGHT NOW you will be able to use it on a $15 or less purchase! Reportedly this started working yesterday! This INCLUDES shipping!! I really don't know how long this will work. So if you still have your credit, I would use it now!
I just tried it to make it sure worked before I posted it for you guys and IT
DID!
I got this cute
Set of 2 Godiva Cedar Sachets, Classic
, (Under French Laundry Table Linens & Decors) which were $10, shipping was $4.95! When I checked out, it took off $14.95 credit, which included the shipping and my total was $0! So I got them FREE, Shipped and have a credit of $.05 left! They are selling out quickly, so
hurry over
if you still have your credit!!
*(I am thinking of using these in some of my Christmas baskets!)