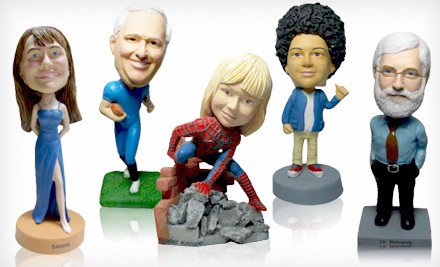 Groupon
features a daily deal on the best stuff to do, see, eat, and buy in 43 countries, and soon beyond! Their philosophy is pretty simple: "we treat our customers the way we like to be treated"! They have some really great deals at up to 90% off! I have purchased several Groupon vouchers and have been very pleased with the service each time!
If you are new to Groupon,
register here
.
Existing members,
log in here
.
Click "Buy Now" when you are ready to purchase your
Groupon
Just select any location,
(
ONLINE DEALS
can be purchased by anyone, no matter where you live)
Groupon
has an excellent policy on your satisfaction..
The Groupon Promise:
"Nothing is more important to us than treating our customers well.
If you ever feel like Groupon let you down, give us a call and we'll return your purchase – simple as that."
Here are a few of my favorites
Groupon deals
for today! There are lots of deals available, so be sure to check them out in your area! If your area is not listed here, just
click here
to see what is available.
Alabama, Birmingham
:
ONLINE DEAL
For $69, you get a
Custom Bobblehead
package from AllBobbleheads.com
(a $130 total value).
Hand-sculpted & painted 7" resin custom bobbleheads brighten desks by portraying friends & loved ones in variety of poses & attire!
Each package includes:
One custom bobblehead (an $85 value)
Email proofing updates (a $20 value)
Standard-delivery shipping (a $25 value)
Alabama, Huntsville
:
ONLINE DEAL
For $25, you get a Body by
Jake Tower Xpress
from Groupon Goods.
(a $99.95 value).
Each set includes the following:
Tower Xpress unit with up to 130 pounds of resistance
Tower Xpress hand grips
Tower Xpress ankle straps
7-minute Xpress workout DVD
7-minute quick-start guide
7-day Xpress meal plan
Georgia, Atlanta
:
Laugh out loud with today's Groupon for tickets to dinner and a filming of Saturday Nite Live in Atlanta at Double Zero Napoletana restaurant. Choose between the following two options:
For $99, you get a show and lite-dinner fare package for two people (a $200 value). The package includes:
Attendance for the live filming
Possible camera time, if desired
Coupon for discounted DVD of production
Light four-course meal for two
For $159, you get an elite special package for two people (a $400 value). The package includes:
Attendance for the live filming
Guaranteed camera time, if desired
Option to be on main stage
Meet and greet the cast and crew
DVD of the production
Backstage and behind-the-scenes DVD
Full four-course meal for two
Two glasses of wine or domestic beer
Tennessee, Nashville:
Enjoy snugly shielded franks with today's Groupon to The Dog of Nashville. Choose from the following options:
For $10, you get $20 worth of lunch in January.
For $10, you get $20 worth of dinner in January.
For $10, you get $20 worth of lunch in February.
For $10, you get $20 worth of dinner in February.
For $10, you get $20 worth of lunch in March.
For $10, you get $20 worth of dinner in March